Working on the Ranch, Etctera
By the time my first effort at farming was over it was clear that so many of the regular ranch employees were leaving, for the service, or for better jobs, that I was needed to work full time on the ranch. Meanwhile, there were some personal issues to deal with-decisions to be made.
Barbara and I knew by this time that we wanted to be married, but had not decided just when that would be. We had even decided that we would have six children, and that our first son would be named Danny! For my part, I was being pulled between wanting to stay home and feeling that I should enlist in one of the services, as so many of my friends were doing. I think I let Tom convince me that I would be serving my country by producing food for the country, so I stayed at the ranch. Also, I didnít think it fair to Barb to marry her and then leave her to go off to war with the possibility that I would not come back. Of course, she would not listen to that, saying that some time together would be better than none. What a gal !!
In the end, things worked themselves out. I agreed not to enlist, Tom agreed not to seek a deferment for me, and Barbara and I were married April 10th, 1943.
Tom had built what we called the "lake house" several years earlier, for Aunt Dot and Uncle Henry Korphage to live in. Uncle Henry worked as Tomís bookkeeper. They were not Aunt and Uncle, but very close friends from Los Mochis. In fact, Aunt Dot had helped with the birth of the three oldest Robertson children. After Uncle Henry passed away, Aunt Dot went to live with one of her daughters. The folks said that whichever of the older boys that married first could have the house. (Jean was already married by then)
So, I staked my claim on The Lake House.
The Lake house
It was a very nice place. Two bedrooms, one bath, laundry area, kitchen, dining room-front room, fire place, hardwood floor. Of course, it was totally unfurnished, so I had to
set about furnishing it. I went to an unfinished furniture store and bought a bedroom set, and dining table, chairs and a hutch. Yes, the hutch that is presently in Su Casa!
Bob Cannell told me that Oxnard Hardware had some oil burning space heaters, so I went over to see about buying one. Many things required permission from the rationing board before purchase, but the heater was not one of those things. I got the heater and all the flue pipe to go with itómetal inside, terra cotta outside. As I was leaving town I spotted an appliance store, so stopped to look for a range. A miracle! They had a new electric range, which I could buy, the only requirement being that the house must already be wired with a 220 volt outlet. When I got home I saw that it was properly wired, called the store and arranged to pick up the range the next day. Things were starting to come together!
The only thing I can remember bringing from the folksí house was my dresser, which is still in my closet. Neither Barbara nor I have any memory of buying a mattress, or front room furniture, but those things were all in the house by the time we moved in. The two things we didnít have, and couldnít find, were a refrigerator and clothes washer. We kept a few things in Dorothyís refrigerator. Barb did some wash by hand, and took some over to Dorothyís, or Mom Wilsonís.
The wedding was at the old Saint Rose of Lima church in Simi town. Dad Wilson made Barbaraís corsage of orange blossoms. Uncle Lyn Hess took some wedding pictures, then off to the reception at my folksí house. There was not much available to buy in the stores for wedding gifts. We got Pyrex, Pyrex and then more Pyrex! There were other things, of course, but all the kitchenware was Pyrex.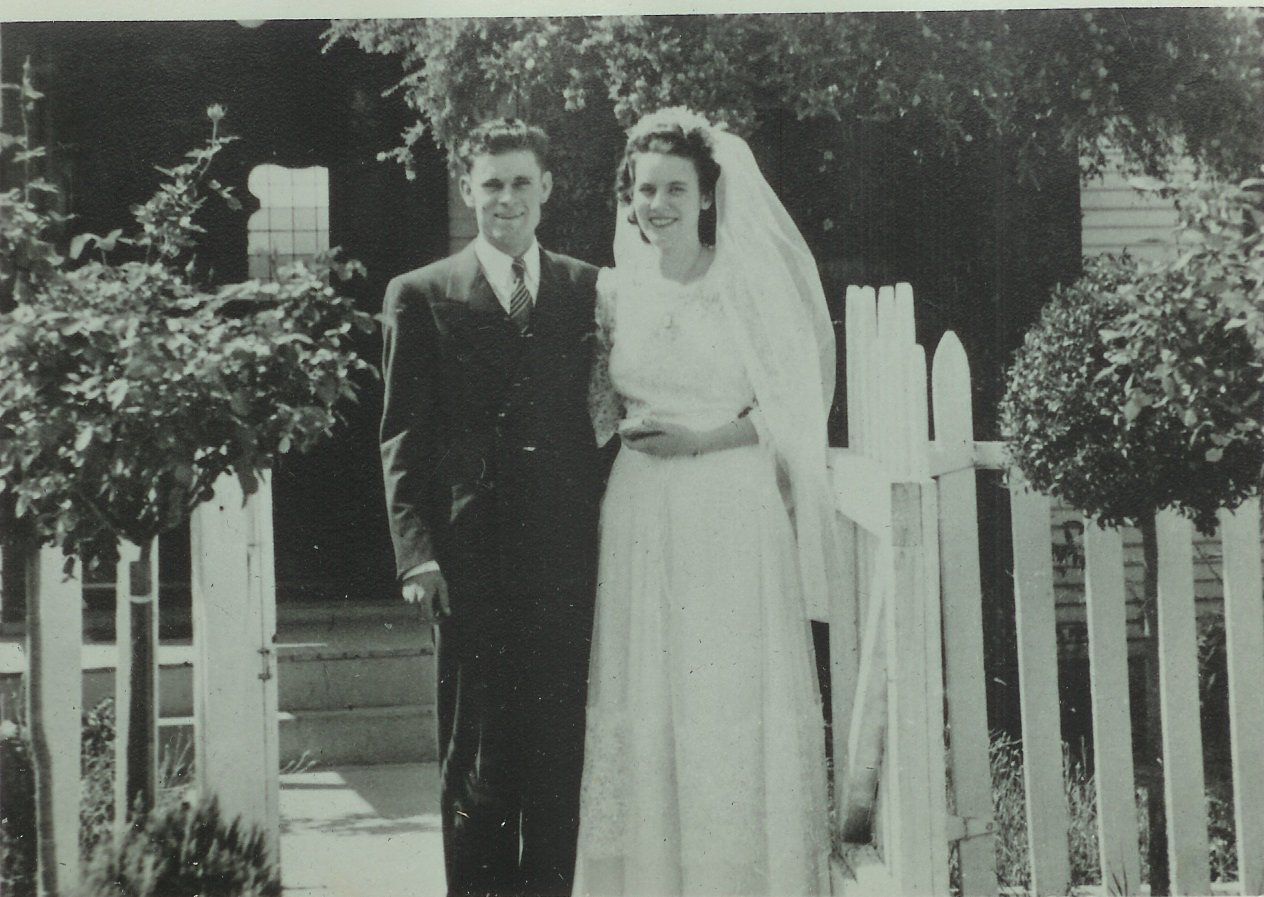 April 10th, 1943
Tom had arranged with Mr. McFadden for us to use the McFadden cabin in the San Bernardino Mountains north of Redlands for our honeymoon. I had been there with Jean and her husband, Bob McFadden, a couple of years earlier. It was COLD up there. I spent a good deal of time gathering firewood for cooking and heating. I think we only stayed for three daysówe were anxious to get into our own little house! When we arrived home we found that Bob Cannel had gathered the ranch crew together to plant a large vegetable garden for us. That was a very nice gift!
The irrigating foreman had left for a lemon picking job, so Tom and Bob decided that would be a good opportunity for me to learn about a major operation on the ranch. We started the season with two other irrigators and soon added another, a man who had worked for us before. These three had to teach me the ropesónot the first time that a supervisor had to be trained by his crew. Of course in the beginning they took a little advantage of me, convincing me that some of the toughest jobs were the responsibility of the foreman, such as digging out and patching broken pipelines. Iím sure they got a kick out of this, but before the summer was over we sort of got squared away on that!
Bob instructed me on the care of the pumping systemóthree wells, three booster pumps, and the gravity flow from the lake. He also told me where to irrigate and when. I kept a time book for my crew, and drove the irrigating "truck". This "truck" was a Model "A" Ford coupe. Tony Grandsen had built a little rack on the back so that we could haul the ten-foot lengths of pipe crossways. The lid to the rumble seat area had been removed, giving us a small space to haul shovels and such. We could also load a limited number of pipes the long way by stuffing one end into the trunk area. It was not exactly a macho 4X4, but it was reliable, and nearly impossible to get stuck. This noble vehicle was referred to as "el Fordingo" by the crew.
We worked long hours, starting at daylight. The routine was to "move" the water first thing in the morning. This meant opening valves ahead of where the water had been the day before, and closing behind. This had to be done a little at a time, carrying pipe ahead as it became available. Since we usually had water running at two locations, the process had to be repeated, leaving one man behind to make certain that the water ran downhill! The goal was to have all the furrows running to the end, with the barest of trickles, by quitting time, so that everything would get wet by morning, with a minimum of waste. It was a goal we did not always attain.
The Lake House, barely visible at the left ,as seen from the lake
By the end of summer I knew where every pipeline and every valve was, and had learned a lot about irrigating and a little about dealing with other people!
The grapes and walnuts were only irrigated a couple of times in the summer, but we kept watering the oranges until the first good rain, probably sometime in November. I remember when the first rain came-I went to find Bob to ask if I should turn the pumps off. He said "Leigh Boy, donít even think about turning them off until I tell you to". He was right, in an hour it had stopped raining, and it was another month before we could put our shovels away for the winter!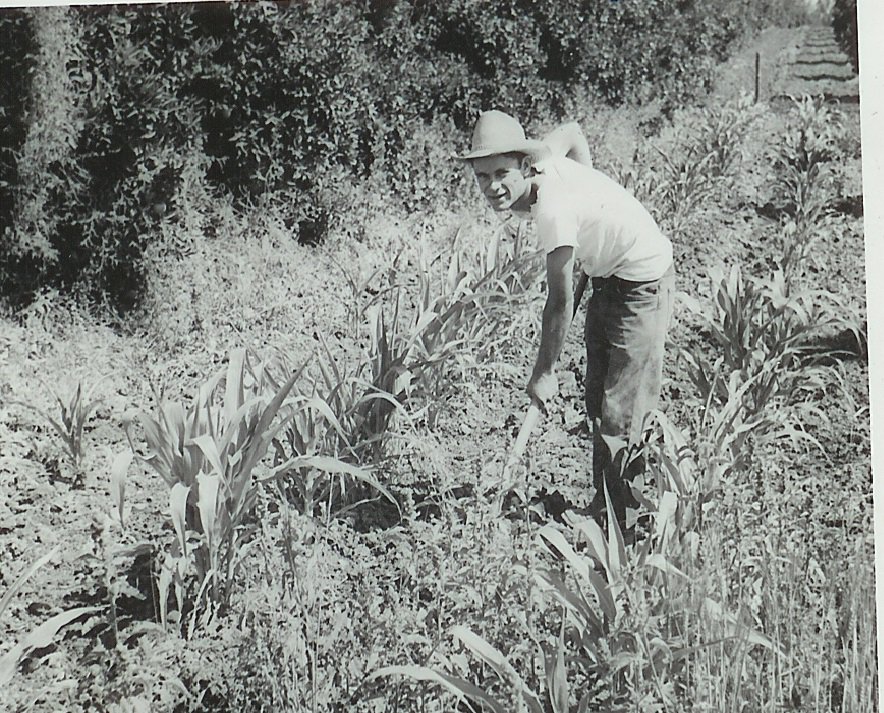 Cleaning the vegetable garden
I must have been taken off irrigation duties that fall, during grape harvest. We had two Ford trucks, a 1936 and a 1937. Alan drove one and I drove one to deliver the grapes to the Utt Juice Co. in Tustin. One of the various routes that we used went past the big Sears store in the Boyle Heights area of Los Angeles. On one of my return trips I noticed what looked like appliances being sold in the Sears parking lot. When I investigated, sure enough, they had refrigerators for sale. I put whatever cash I had in my wallet down on one, and returned the next day to pay it off and take it home. What a hero I was when I told Barbara the news!
During the winter everyone on the ranch worked at pruning grapes, and tying the remaining canes to the trellises, ready for the next year. I would wake up in the morning with my right hand cramped so badly that I could hardly open it.(from using the shears all day). Little by little we got over that, but of course by then the job was finished!
Another fall job was to haul the smudge pots out into the orange orchards. At that time we were still using coke-burning pots. Later we switched to oil burning pots. Of course this job had to be repeated, in reverse, in the spring. Please, donít ask why we didnít just leave them in the orchard all the time.
On frosty nights everyone would be rousted out in the middle of the night to light the pots. I never minded the middle of the night stuff nearly as much as working all the next day to re-fill those miserable pots!
The big event of the winter was when our Danny Boy came to live with us! The doctor had wanted Barb to stay in the hospital for ten days after Danny was born. Thatís quite amazing to think of in light of todayís "drive through" birthing. What is not amazing at all, knowing Barbara as we do, is that she talked him into letting her come home on the fifth day, provided that she came in an ambulance!
I arranged for an ambulance to bring them home, but the Company made it plain that their ambulance would not leave the pavement in rainy weather. Since we lived off the pavement, this created a possible problem. So, naturally, it rained all night before the big day. My best recollection is that I managed to drive the last quarter mile in our car, but I had a tractor standing by, just in case. Finally, the three of us were settled into our house. It was a beautiful day!
The following day I had the privilege of giving Danny his first bath at home. I donít think I was the least bit nervous about that. In fact, looking back, it seems like both Barbara and I adjusted easily to the routine of having a new person in the house.
Barbara and Danny. Are these two happy people?
About February or March of the next year, 1944, Tom came by the house, bringing a notice from the Draft Board, that had been delivered to their mailbox. I was to report for a physical exam, prior to being drafted into to service. Once again, he offered to ask for a deferment for me, but I decided it was time to go. I canít remember the date, but I do remember a busload, or several busloads, of young men leaving from Oxnard, traveling to some place in downtown Los Angeles for our physicals, and to fill out forms and such.
I was declared fit, and sent home with orders to report for duty in early June. When the day came, Tom came to take me to the bus in Oxnard. He said that the radio was reporting that the Allied Forces had landed on the continent of Europe! It was June 6th, 1944.