High School
Iíve been putting off writing about my high school years. I canít say why this is so difficult for me. They were not the best of years, nor were they the worst of years. Itís just that there donít seem to be very many real highlights.
I always seemed to be well liked by the rest of the kids. They elected me to be class president the first three years, and would have done so our senior year, but I had been elected Student Body President by then and so declined to serve again. At the same time I was terribly shy around girls, and not the least bit confidant of my abilities as a leader, or in any other at my studies that first year, doing considerable homework every night. That work paid off---I was the only boy in our class to be eligible for the Scholarship Society. I canít say for sure what classes I took in my four years. I think that English and History were required for all four years. I also took two years of Spanish, two of Algebra, one of Trigonometry, one of Physics, one of Chemistry, one of Mechanical Drawing, one of Geometry, and two of Wood Shop. I must have forgotten something---there should be a total of twenty. Oh yes, General Science.

Rae and Leigh, Off to School
And, of course, there were sports. I believe that Simi High had never had a football team, at least not in my memory. With less than fifty boys in the entire school it would have been a little hard to put a team on the field. The coach during our freshman year decided to organize a Six Man football team. Six Man was a new concept, and never really caught on in a big way. The game was more open, with less body crunching than regular football. I played quarterback. The rules called for the ball to change hands in the backfield before crossing the line of scrimmage, so my duties consisted of calling the plays, taking the snap from center and handing it off to the other back, who would either run or pass. We played four games, winning two, losing two.
In baseball I played third base for four years. I was quick enough to cover lots of ground and did a fair job of fielding, with a strong arm for the throw to first base, although somewhat erratic. I compensated for my shortcomings in the field by being a terrible hitter at the plate! Does that tell you that there was not a lot of competition for my job? I think that we may have won the league championship in my first year.
For some sports we were classified by age, weight, and height. As a freshman I was a "C", so I played basketball on the "C" team. We were a high scoring bunch. Most games didnít see more than twenty points total, between the two teams!
I should have mentioned that my brother, Alan was a very good athlete in high school, and I, of course, wanted to do everything that he had done. Accordingly, I ran the mile in track. Since there was no mile run event for class "C" or "B", I was competing in the "A" class. (We were allowed to move up in class, but not down) I never won any races, but did get a fourth place ribbon in the all league meet.
My friend, Curtis Pollack, and I tried out for the tennis doubles team, without success. Curt went on to make the team as a singles player.
I believe that it was in the summer of 1942 that Curtis Pollack went with us to spend two or three weeks at Puerto Santo Tomas, in Baja. Tom bought the horse I am riding. We named him Buck. Several years later, we took Buck to the ranch in San Telmo.
It was a very busy year for me. During the following summer Tom took me to see a doctor friend in Los Angeles. He gave me a thorough physical exam. He said I had a slight heart problem, and recommended that I cut way back on my sports activity. The doctor had been an athlete in high school and at Stanford, and he felt that in general young people were doing too much, too soon.
This was a terrible blow to me. I was to do no distance running, but could participate in the field events. Baseball was OK. I was restricted to no more than half the minutes of a basketball game, and those had to be broken up. I think the school dropped football for a few years, so that wasnít a problem. Tom had had a neck problem all his life that he blamed on high school football, so he never was happy about having me in that sport.
I was very depressed about this turn of events, and I must admit that I didnít handle it very well. When school started in the fall I had no interest in getting grades, so I got very careless about doing my homework. In retrospect, what happened as a result of my attitude was rather unfortunate. Where it took a lot of effort to get an A, it took very little effort to get a B. So, even though I graduated with mostly Bís, some Aís, and a couple of Cís, I didnít get out of school what I should have. Fortunately for me, the most effort went into those things that most interested me, and have served me well over the yearsómathematics, geometry, physics and Spanish.
Freshman English was mostly grammar. I really had a hard time grasping the concept of conjugating verbs, constructing sentences, and even learning the various kinds of words. I guess trying to put rules to a language that I already spoke didnít make much sense. It was only when we were given the same lessons in Spanish that English grammar started to make sense!
I enjoyed Physics. Everything seemed so logical, the results of any set of circumstances so predictable. Of course a Physics course today would be much different, and much harder.
Chemistry, on the other hand, was totally incomprehensible. I was able to memorize enough to get decent grades, but I surely did not understand it. I must have fooled my teacher, Mr. Pollack, because he insisted that several of us with the best grades go down to Los Angeles to take a Chemistry test for high school students. WELL! I never felt so stupid in all my life! Beyond putting my name at the top of the page, I answered very few questions. I may have set a record for the lowest grade ever on that test!
Life would be better for all of us today if I had skipped Chemistry in favor of Typing!
Signs of the times---when I was on the scholarship roll, there were about four girls to every boy. I canít recall any girls in either Physics or Chemistry. Few, if any boys took typing, none took Home Economics, and no girls took Agriculture. How times change!
Leigh, 1942
As a sophomore I started the basketball season on the "C" team. Midway through the season the coach of the "B" team asked me to move up to play with them. I was flattered, naturally, but my coach pointed out that it would not be totally fair to abandon the team I had started with. We finally reached a compromiseóI would stay so long as the team had a chance to win our league championship. When we were out of the running, I moved up for the last few games with the "Big Boys". The last game of the season would decide the championship of our league. Iím not sure who our opponent wasómaybe Moorpark. The afternoon of the game it rained, and since neither Simi nor Moorpark had a Gym at that time we arranged to play in the Fillmore gym. The game ended in a tie. At that time whichever team was able to get a three point lead in overtime was the winner. On the first play in overtime I was fouled trying to score. I made one of my two free throws. Soon after, our forward, Al Shutt, made a basket, giving us the game and the championship!
The next year was more or less a re-run. I started on the "B" team and ended up on the "A" team. The transition came about when the "A" team was invited to play in the Santa Paula tournament, which was not a league event. I think the tournament was during Christmas vacation, which meant I could still go back to my old team for league play.
The tournament included some large schools that we normally did not compete against. We lost our first game, to Santa Paula, I believe. That put us in the consolation round with all the first game losers. We won the next two games and faced off with Lompoc in the consolation championship game. Lompoc had won the Championship round the year before and made no bones about the fact that they were going to demolish us. Well, it didnít happen! I had the best game I ever played, handled the ball well and put down several outside shots when they counted. We took a lead into the last couple of minutes of the game. Al Shutt and I controlled the ball the rest of the way. Once, when I was double-teamed, I made a behind the back pass to him. I wasnít hot-dogging, it was just the best way to get him the ball. I had learned to make that pass from one of the coaches during my freshman year. He told me to practice it all I wanted, but he NEVER wanted to see me do it in a game. Sorry, Coach!
So, we won the consolation round, and I got a Most Valuable Player Award. Pretty heady stuff for a skinny kid from Simi High. I was beginning to understand that my performance was always much better when my teammates were better than me, thus demanding extra effort on my part. And of course, when we perform well, we enjoy it more. The die was cast, I finished the season once again with the "Big Boys". We went on to win the league championship, and traveled to Bishop for a CIF play-off game. It was a nice trip, but it turned out to be the end of our season.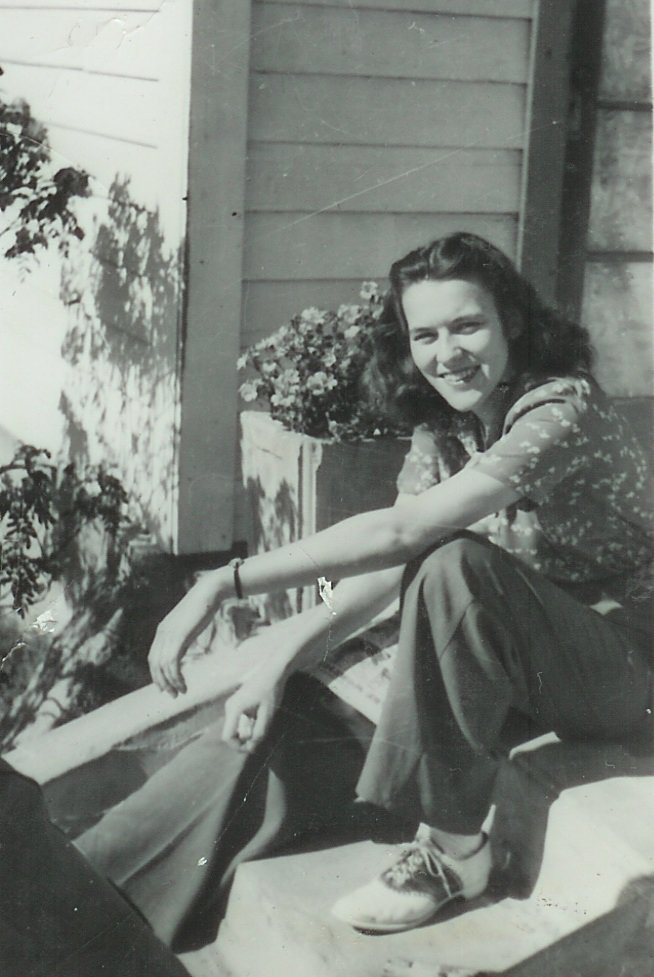 Barbara Jeannette Wilson, on the steps of her parents house in Moorpark.
So, I guess there were some highlights in my Junior year after all. Oh, yes! There was one other important thing that happened. One Saturday in late winter Alan, his long time friend Frisbie Brown and I went down to the Los Angeles Coliseum to watch a track meet. It was something that we did now and again. At one of these meets we were privileged to see a new world record. Perry OíBrien became the first ever to exceed sixty feet in the shot put. After the meet we all returned to our house for supper. Al and Fris had decided they would go to the St. Patrickís Day dance in Moorpark, and asked me to go with them. I attended all of our high school dances, but going to an out of town dance where I would not know anyone was not my cup of tea! To this day I donít really know how Alan convinced me to go, but he did. At the dance I watched as Al and Fris danced up a storm with the local girls. After a bit Al came to me and said that there were a couple of girls my age on the other side of the room, and that I should go dance with them. I think the first one I asked was Jeanie Middleton. Then I danced with her friend, Barbara Wilson. During the course of the evening I found out that Barbara had not planned on going to the dance, as she had given up dancing for Lent. Her cousin, Charlie Dinsmore, was staying with them at that time, and he convinced her that surely it would be overlooked if she broke her vow in order to honor St. Patrick! So, thanks to my brother and Barbaraís cousin, a new page was turned in my life, a new chapter opened. It would be the first chapter of the rest of my life!
A week or so later I got the courage to call Barbara to ask her to go with me to the Junior-Senior Prom. She accepted without hesitation. Why had I been so frightened about this? Quite simply, I think it was fear of rejection. Fear of both failure and rejection were much a part of my being in those early years. I would have to say that I have come a long way since then. It was a slow and gradual process, but at some point in my life I realized that I could do just about anything that was important enough. Of course we all have our limits, and fortunate are we who recognize them, along with recognizing our strengths.
Leigh and Barbara, in front of her house in Moorpark
Getting to the prom turned out to be an exciting event. I had ordered a pair of trousers that had to be altered at a store in San Fernando. They kept putting me off, until finally on the day of the prom I was told they would be ready for me. I took my brother Tommy with me to pick them up. Well, they were not ready, and I waited, and fussed, and fumed. Finally I called home and asked that someone call Barbara to tell her that I would be late. Big brother to the rescue once again! Alan drove over to Moorpark and brought Barbara to the house, so that she was waitng there for me. On the way home I was driving much faster than I should have been. I put my hand over the speedometer, so Tommy couldnít read it, and also swore him to secrecy! He decided the prudent thing to do was to get in the back seat and lay on the floor. He had not yet fully developed the spirit of adventure that he had when he became a teenager!
We arrived at the prom a little late, which was rather embarrassing, as the Junior class was putting on the prom for the Seniors, and I was their leader! Oh well, that was not the first time, nor the last, that the "followers" have been way ahead of their "leaders". As I remember it, the prom went well.
How times have changed! We were the first class to hold a prom anywhere other than the Womenís Club House, across the street from the school. All of the school social functions were held there, since we had no school building for that purpose. It was really very adequate, with a large dance floor, stage at one end and kitchen at the other. However, we felt, and rightly so, that ours was by far the best class ever in the history of Simi High School, and therefore we must do something different and special. In the north-east corner of the Valley there was a nice club house that had been closed for years. Known as MarrLand Country Club, it was part of a failed real estate development. The father of one of the girls in our class was caretaker of the property. He was able to arrange with Mr. Marr for the use of the clubhouse. I donít recall that we paid anything for it, but we did do a thorough cleaning before and after using it. The prom started with a meal, prepared by our mothers and served by some of the underclassmen-underclassgirls-underclasspersons.(Bear with me, Iíll get the hang of this correctness thing!)
The girls did wear formal dresses, but there were no tuxedos, and for sure no limos! We hired a three-piece orchestra from Ventura, which cost us the princely sum of thirty-five dollars. All in all, I think we gave the Seniors a good send-off.
A couple of weeks later I escorted Barbara to the Moorpark prom. I knew most of the Moorpark boys slightly, from having competed against them in sports. They were not overjoyed to see me, and I know that Barbara caught a little flack for bringing a boy from Simi. It was just a friendly rivalry, of course. Thatís something else that apparently has changed-We could be rivals without shooting each other!
Barbara wearing my Lettermanís Sweater
Shortly after we started dating I showed up at Barbaraís house unannounced. Her mother told me that she was off with her friends and was expected back soon. She said I could come in and wait if I wished, so I did. She apologized for not stopping her work-cleaning the kitchen after food preparation. It seemed the most natural thing for me to do was to pick up a dish towel and dry dishes. We visited and cleaned the kitchen, and she thanked me for being so thoughtful. Later, Barbara remarked on what had happened, how impressed her mother was. I knew I had scored big points, but I had only done what I would have done at home. Thank you, Dorothy, for training me so well!
Sometime during my senior year I decided that I was not going on to college. I told myself that since what I wanted to do in life was be a farmer, I didnít need more education. That was not really very good thinking. Also, we had been drawn into the war, and I didnít know when I might have to go into the service. That was a copout. The biggest factor, which I could not admit at the time, was that I feared that I could not make it in college. I think maybe my teachers overemphasized how difficult it would be, and then there was the lack of confidence that I mentioned earlier. Looking back I realize that all of this was foolishness. I would have done fine in College.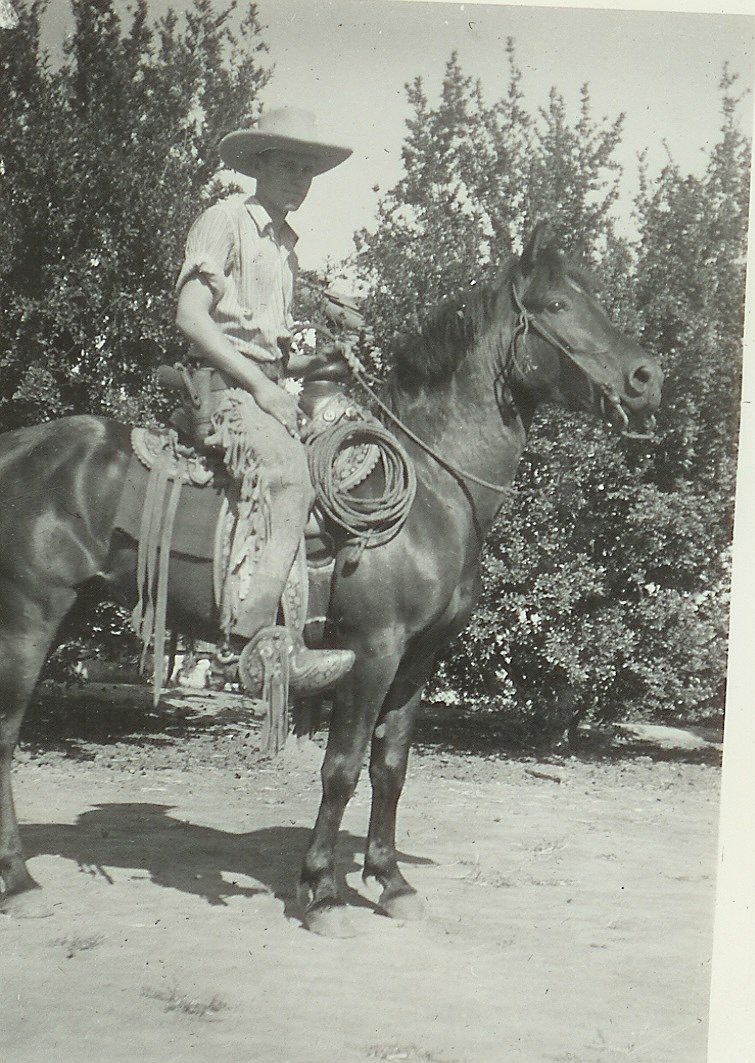 .
Leigh, on Sundown
I know that my parents were very disappointed with my decision, but they came to accept it. For my part, I have no regrets. For one thing, I have been able to do all of the things in life that I wanted to do, with some measure of success. Most importantly, taking a different direction at that time would almost certainly have changed everything else in my life. In short, I would not trade what was for what might have been! Besides, our education does not have to stop when we leave school. In fact, I think that our real education starts in the real world.
Barbara and I were seeing each other every weekend, usually going to the movies at the theater in Moorpark. We had a date to see "Sargent York", on the afternoon of December 7th, 1941. My folks, and the younger kids, I think, had decided to go with us to see this movie. Sometime during the morning we got the news of the Japanese attack on Pearl Harbor. It was a rather subdued and apprehensive group that watched this WW I movie on the day that we became engulfed in WW II. As soon as the country became aware of the extent of our losses at Pearl our lives started to change.
Even though the US had been supplying ships and aircraft to Great Britain, we had done precious little to build up our own forces, secure in the belief that the war could not leap the ocean to touch us. Now it had leaped the ocean, the Pacific rather than the Atlantic, and in the process destroyed most of the Pacific Fleet, and most of the Air Force based in Hawaii. Under these circumstances, the entire West Coast of our country was quite vulnerable to further attack. To prepare for this possibility we did all the things that you would expect. Air Raid wardens were designated, blackouts enforced, blackout driving lights installed on cars, and aircraft spotterís stations set up. Each station had a telephone that connected to the control room in Los Angeles, and was manned by local volunteers, 24 hours a day. Barbara and I took a shift at a station in the west end of the valley on weekends.
Soon, "consumer goods" started to disappear from the stores as factories were converted to war time production. Rationing was put in place for gasoline, tires, and eventually many food items.
As for school, we decided not to publish the High School Year Book, due to shortages of paper and photographic material. Travel to athletic events was greatly curtailed. (Just as wellónone of our teams were outstanding that year!)
To say the least, the class of Ď42 graduated to a world of turmoil and uncertainty!

Touch Football, Probably Christmas Day
MerilieóJean--Bob MacFaddenóTommyóAlanóRae--Leigh