Growing Up
Before launching into these rather rambling recollections, it might be well to introduce the cast of characters.
We always called our parents by their first names, Tom and Dorothy. In later years, as our children came along, they became Poppa and Granny.
Tom's father was Dad to us kids, or Don Luis to his friends. Tom's mother was Grandma Bennett (Bessie). Her mother was Grandma Whitzle (Rose)
Dorothy's father was Grampa, or Grampa Utt to us, Ed to his friends, and Mr. Utt to most.
An interesting sidelight is that even though Tom had great respect for Grampa and they shared many adventures, I never heard him address Grampa as Ed. When he spoke of him he said Grandfather Utt, or Mr. Utt. When speaking to him he used Mr. Utt, or Don Eduardo.
Dorothy's stepmother was Grandma (Rawlings)Utt.
Then there was Alan, my older brother, Jean my older sister, Rae and Merilie, my younger sisters, and Tommy, the youngest. Alan, Jean and I were born in a small brick house on the bank of an irrigation canal in Los Mochis, Sinaloa, Mexico. I was only two years old when we came to Simi, CA, so I have no memories of Mochis from that time. However the house was pointed out to me on trips that we made in later years.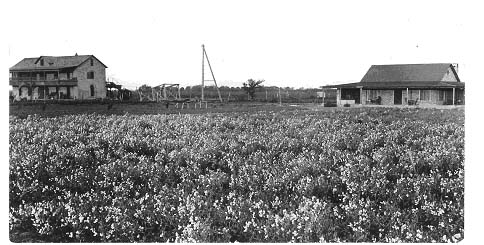 Luis and Bessie Robertson Home Tom and Dorothy Robertson Home
Los Mochis, Sinaloa, Mexico

My earliest memories are of a very old wooden house. As I remember, it had a kitchen, bath, dining room, front room, and one or two bedrooms in the main part. A porch extended across the front (North) and East sides. These had been closed in for Tom's office and more sleeping area.
Rae was born while we were in this house—at home I believe. Merilie and Tommy arrived after we moved to the new house.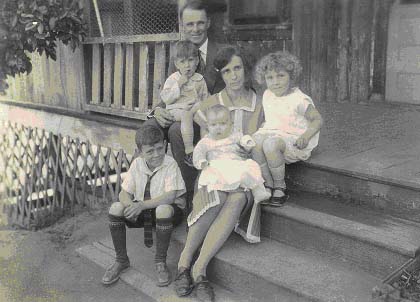 Tom Leigh Dorothy Jean
Alan Rae
Tony Grandsen, who was the Sinaloa Ranch blacksmith, and his family moved into the old house. The Grandsen kids were very much the same ages as the Robertsons, so we were friends and schoolmates through the years. Later, Lonnie Espinosa and wife Lola lived there. Lola did housework for Dorothy off and on. Lonnie was teamster, irrigator and finally tractor driver. After Lonnie left the old place was torn down.
It must have been the Santa Barbara earthquake that sent us scurrying out of that little house in the middle of the night, there to remain, huddled in blankets, under the big Willow tree in the back yard until morning. With daylight we ventured back into the house, which was not damaged. However, all of Dorothy's home canned fruit and preserves lay in a jumble on the pantry floor. Because of that experience, when the new house was built, she had little railings put on all the pantry shelves. They did their job well in the Long Beach quake, which was also quite severe.

Dad had come to Simi ahead of us, and built a new house close to ours. There were a number of springs of very good water on the hillside in back of our houses. These had been developed by digging cisterns into the sandstone to collect the water, which was then pumped to a storage tank for domestic use. Dad also had a cistern just outside his back door for his own drinking water. There was a ladle close by to use for dipping a nice cool drink of water. Of course the cistern had a lid on it, but one day when Dorothy left me in the care of Dad's housekeeper I managed to open the lid and, leaning in to get a drink, tumbled in head first. The housekeeper heard the commotion and came immediately to drag me out. Needless to say, we were a little more careful about getting a drink from Dad's spring after that!! I was probably about four years old at that time.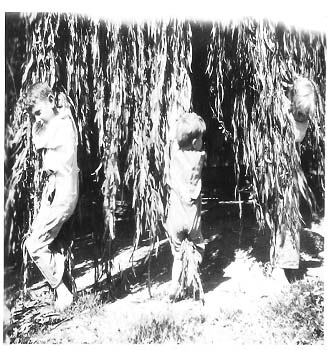 Swinging on the Weeping Willow
I also remember a large Mulberry tree near the old house. I can recall at least one occasion when Alan, Jean and I, and the older Hess Cousins climbed high into the tree to pick and eat the berries.
Another memory is that one of the ranch workers brought us a live Jack Rabbit that he had somehow captured. It was put in a little pen of some kind, with boards over the top to keep it from jumping out. When I heard about this, I went out to the pen to see the rabbit. When I lifted one of the boards to get a better look, the rabbit promptly jumped out and ran away! I went back to the house and told my mother "rabbit all gone". I suppose I would be a hero for doing that today, but it was not my intent, and I was none to popular with Alan and Jean for the next few days.
I think I was five when the folks took Rae and me on a train trip to Los Mochis. I know it was during the winter, because I remember walking around Nogales breaking ice on the puddles of water. I also remember Tom negotiating with some Indians in Navojoa for blankets. We stayed with the Korphages. We called them Aunt Dot and Uncle Henry, even though they were not related. Aunt Dot had helped Dorothy with the delivery and care of the three older Robertson children. There was also a large gathering at the Jordan home and a trip to the camp at San Ignacio.
Shortly after this trip we moved into our new house. This is what our kids call the "Big House", where they spent most of their growing up years. It was obviously built like a fort, as it withstood the ravages of the six of us, then our six kids, and later on, Joe and Georgia Feeney and their twelve!
A high school friend of Tom's, Marvin Morrison, built the house. It was a Spanish style. Even though it was frame construction, it looked very much like it was made of adobe bricks. The house was quite large, in the shape of an "L". One wing had four bedrooms and a bath, the other held the front room, entry, dining room, kitchen, "play room", laundry, another bath, and Tom's office. And of course, Dorothy's pantry.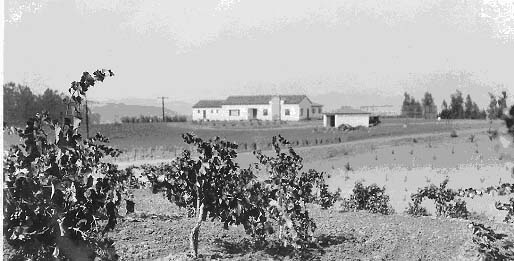 The New House, About 1930
On the first Christmas in the house I was given a large toy truck. It had rubber tires and was steerable. It was not really meant for riding, but Rae and I would take turns pushing one another at high speed through the house. We would start at the far end of the long hallway, gathering speed as we went, careening through the front room, then making a loop around the dinning table. I'm not quite sure why Dorothy tolerated such activity on her new hard wood floor, but she did.
Waxing these floors was sort of a family project. The furniture had to be moved, hard wax applied, allowed to dry, then buffed to a nice shine, and the furniture moved back into place. Dorothy supervised, and all who were old enough pitched in. This pretty well used up one Saturday morning each month. We seemed to make a game of this chore, and I certainly don't recall that we dreaded it in the least.
I do remember, however, that at some point in our young lives, Rae and I must have felt so put-upon that we decided to run away from home. Of course, common courtesy demanded that we tell our mother of our intentions. She offered to pack us a lunch, just in case we got hungry. With lunch in hand, we marched resolutely out of the house. By the time we got to the second row of orange trees, we seemed to be very hungry. As we ate our lunch, we discussed just where we should run to. After some reflection, we sneaked back into the house. When we showed up at the dinner table, our very wise mother acted as though nothing had ever happened. There is a larger lesson to be learned from this little tale. Don't run from something until you know where you are running to. Don't jump off a bridge until you have picked out a place to land.

When the house was built it had electric heaters in each room. When Tom got the first Edison bill he promptly removed all the fuses, except for the kitchen and main bath. For several years the only other source of heat was the fireplace in the front room. It was very large, and consumed prodigious amounts of wood. In the winter it was a regular Saturday job to bring wood up onto the porch-enough for the following week. Again, all that were old enough were expected to participate in this chore. After Alan started high school it was my responsibility to make the fire and feed it. I think the reason that I got this responsibility at such a tender age was that Alan got a milk cow as his Ag project, which kept him busy morning and evening.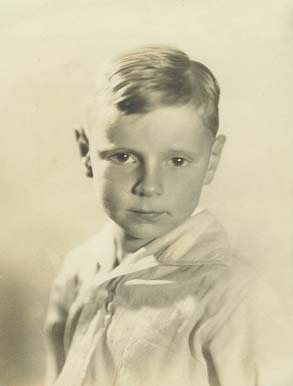 Leigh, About Age Six
We used whatever firewood that happened to be coming off the ranch at the time. Eucalyptus, of course, was great. At one point Tom took out a persimmon orchard, and that was good. Walnut was not too good. It burned too fast. The worst was a mountain of grape trunks. It was very messy, burned almost as fast as newspaper, and the ashes had to be removed every day!
One winter, I believe it was 1937-38, we had about thirty consecutive days of freezing nights and nearly freezing days, along with east wind. Bob Cannell, the ranch foreman, brought me two smudge pots to put in the fireplace. These pots burned coke briquettes, not oil. They would burn for several hours. I could get them started in the morning, refill them after school, and again at bedtime. They smelled a little, but it sure was better than hauling wood!
At some point Tom had propane heaters put in the house—a furnace in the basement for the west end of the house and individual floor heaters in the other rooms. Our children have their own tales to tell of putting unwanted food down the register in the breakfast area. I'm quite certain that I would never have done such a thing as a child!
We had a "play room" next to the kitchen. There was a small table, with four tiny chairs, as well as cupboards and shelves for books and toys. I think that Dorothy had a crib in there as needed for Merilie and Tommy. The bedrooms were so far away that she would not have been able to hear small children from the kitchen. Of course there came a time when having us out of earshot was an advantage.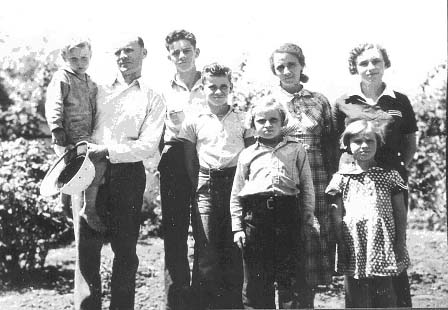 The Family Robertson, about 1933
Tommy Tom Alan Dorothy Jean
Leigh Rae Merilie
At first I shared a room with Alan. Later on I moved into what had been the playroom. Tommy moved in with Alan.
We all had regular chores, of course. I made school lunches for all, starting at about age 12 or 13. Dorothy set aside one large drawer in the kitchen and a shelf in the refrigerator for lunch supplies. The bread, cookies, fruit, cheese, meat in these places was NOT to be used for snacks! I'll have to say that the system worked pretty well.
Other chores included keeping a supply of oranges in the house for making juice, cleaning the bathrooms, and doing the dishes after supper. I should explain that the noon meal, if eaten together, was dinner, or lunch if eaten from a bag or box. The evening meal was supper. Somewhere along the line I seem to have become the designated handyman. I learned to replace broken window panes, light switches, and repair leaky faucets. Surely by now you realize that I did far more work than any of my brothers or sisters!!! Little did I know that I was being trained for my life's work!
We were usually in teams of three to do the dishes, starting with the oldest, then working down over the years. I remember seeing a movie where the person washing the dishes tossed them back over his head, and someone in back caught and dried them. We thought this was great sport! I'm not real sure that our ever so patient mother knew about this method. We did have sense enough not to try this with her good china!
We had a "family orchard" near the house that that had all sorts of fruit trees--avocado, peach, plum, apricot, loquat, quince and I don't know what else. I remember going daily to test the loquats in anticipation of the first pie of the season, and the tummy aches from eating them before they were ripe.
Dorothy did lots of canning, and I enjoyed helping with that. She put up fruit, jam and jelly, as well as tomatoes, tomato juice and grape juice. I particularly recall helping with (concord) grape juice. She would put several large pots on the stove to cook the grapes, which had been stripped from the stems. After several hours of cooking we poured them into a large flour sack. They were made of cotton in those days. The sack was hung from the ceiling, with a large pot below to collect the juice. After the juice had all drained out it was brought to a boil again and bottled. I used a hand operated bottle capper to seal the bottles. In retrospect, I'm not sure why we put up grape juice, when it was so readily available from the Utt Juice Co.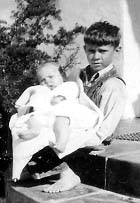 Leigh and Merilie
We received a small allowance, maybe a dollar or two per month. I was always the most frugal of the bunch. I always had money to lend to the others. It must have been an oversight, but I never charged any interest! You will be glad to know, that small character flaw was corrected in later years! I saved for a long time to be able to buy a wallet, and still have some bills to put in it. Obviously, some things never change. I've always lived by the "fix it up, use it up, wear it out" rule. To this day I have trouble throwing away anything that might some day be used, or fixed.
I am trying. In the past year I've thrown out several shirts that surely were no more than fifteen years old, and Mother didn't even save the buttons!
We were big on family gatherings. I guess you just do more of that when you don't have television, computers and not too many movie theatres. The Hess cousins lived nearby, and we saw them often. Others came once or twice a year from Escondido, Santa Ana, Tustin and Balboa, and we visited them. Jean's birthday was December 24th and we always had a big party in the evening. After supper we gathered around the piano. Aunt Gertrude played and we all sang carols. All the young folks were expected to perform as part of the entertainment. Play an instrument, recite poetry, put on a skit, whatever you wanted to do. Having absolutely no talent for any of these things, I usually contrived to take a minor role in some group performance.
Dad had built a circular table around the trunk of a huge oak tree in a canyon above the lake. This was the scene of many summer picnics and barbecues. This whole area was planted to orange trees and it was a wonderful place for hide and seek. Twice the table had to be rebuilt to allow for the growth of this "Picnic Oak".
I particularly remember visiting Balboa and Lemon Heights, near Tustin. Dorothy's very dear friend from childhood, Hattie, and her husband, Ralph Coffman, lived at Balboa. They owned the "Surf Apartments", and lived in the front unit, facing the sea. We called them Aunt and Uncle, even though they were not related. I think there were six or eight units in all. Times were very hard, so there were always rooms available for us. As often as not one or more of Dorothy's sisters were there, with cousins our age. There was a sidewalk or "Boardwalk" between the houses and the beach. It was made of wooden planks, and elevated enough for us to crawl underneath to search for coins or other treasures that might have fallen through the cracks. It was great fun, even though we never found anything worthwhile. Nearby were swings, slides and a merry go-round. Also swimming in the bay or wading in the surf. The Pavilion was only a few blocks away, and we went there to get ice cream cones. Occasionally we would walk north to Newport to go out on the pier. All in all it was a fun place for kids. Incidentally, the old Pavilion is still there, and probably still selling ice cream!
On one of our trips to Balboa we took the Red Car. This was an electric train system that covered the Los Angeles area. Dad drove us to Owensmouth (now Canoga Park). We rode the Red Car to downtown L.A, then transferred to another car that carried us all the way to Newport. What a shame that system was replaced by buses!
Grampa and Grandma Utt built a wonderful house on Lemon Heights, east of Tustin. In the good old days, BEFORE SMOG, you could see the Los Angeles City Hall to the northwest and Catalina Island to the southwest, and all in between.
It was a huge Spanish style house, built in a square surrounding a patio with a fish pond and garden. There was a covered porch all the way around the patio that served as a hallway, there being no other way to get from the bedrooms to the rest of the house. The south wing had Grampa's office, their bedroom, and Aunt Marjorie's bedroom. The east wing had a "nursery"-two bedrooms and a bath. This was where we stayed when we visited. The south wing had a maids quarters-bedroom and bath. Then the laundry area, a large pantry and the main kitchen. Off the kitchen, facing the patio, was a breakfast nook. Next, the Butler's Pantry, in reality another complete kitchen, but smaller. On the corner was the very large dining room. We always ate there in the evening. On the west was the Library. This was where we all sat to read and play games. Two walls were covered with shelves of books, and I'm certain Grampa had read all of them. His formal education ended with the eighth grade, but he may have been the most educated man I ever knew. Near the small fireplace was his easy chair, with a large world globe at his elbow. Across the large entry was the formal front room. Aunt Marjorie's grand piano was in there. We were given very strict orders NOT to go into the front room, even though it was a shortcut from the library to the door leading to the garage. The one time Ted Deaver and I tried that route our footprints in the deep carpet betrayed us. Crime does not pay!
There were also two bedrooms and a bath on the second floor. I was an adult before I saw these rooms, as upstairs was another place that we kids were not allowed. A long, covered walkway connected the south wing to a three or four car garage, with living quarters above for a gardener. I think these quarters were occupied some of the time. For sure there was a lot of garden to maintain. In the front yard there was a second, larger fish pond, surrounded by an expansive lawn and many flowers at the boarders. Outside the bedrooms was a semi-enclosed rose garden that was Aunt Marjorie's special project. For some reason, we were asked not to play in there. Outside the "Nursery" was a walled garden with lawn, some giant bamboo that was occasionally harvested for Dad to make into fish poles. There also resided in this garden two tortoises. We had to be sure to keep the gate closed so that they would not creep away.
As I mentioned, the gardener's quarters were used some of the time, the maid's quarters only sparingly-usually by some family member that needed a place to stay temporarily-and for sure they never had a butler! Grampa was not there much of the time. He was usually off developing a ranch somewhere, living in a shack!
All in all, it was a magical place to visit.
When we first came to Simi the ranch was just bare land, planted to barley, without irrigation. Grampa Utt had bought the ranch originally, then Dad and Tom came in as Partners. Actually, it was a corporation in the beginning, Tom owning 50% of the stock, Dad and Grampa 25% each. It was a long , ambitious and expensive process to develop this bare ground into productive orchards and vineyards. After a few years the project was so deeply in debt that Grampa thought that it was surely going to fail. He was having financial setbacks in other projects, and decided to walk away from Sinaloa Ranch-then known as Hacienda Sinaloa, Inc. He signed his interest over to Dorothy and not long after that the corporation was dissolved and became a partnership.
The first step in the development was to drill irrigation wells. There were three of them, along the eastern edge of the ranch and towards the north end. A twelve inch concrete pipeline carried the water to a booster pump that pushed it through a twelve inch steel line to the southeastern corner. Along the way there were smaller lateral lines that carried water by gravity to irrigate about two thirds of the ranch. I can't tell you how many miles of pipeline were installed, but many.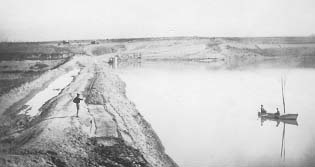 The Dam Under Construction
The other irrigation project was the lake, or reservoir. Water from a large drainage area on two adjoining cattle ranches was diverted into the lake. The earth fill dam was constructed entirely with mules and Fresno scrapers. It was a slow process, taking several seasons to complete. They could only work on it when the men and mules were not needed for the normal farming operations. When completed and filled it held about one hundred acre feet of water. We could pump from it or reach about one hundred acres by gravity flow. On good rain years the lake would fill on its own in the winter. In dry winters we pumped into it from the wells in order to have the extra water in the summer for irrigation.
Of course it didn't take Dad long to get the lake stocked with bass and bluegill. He built a boat and a "bathhouse". This was a sort of floating dock. It had a dressing room at one end with an open deck and diving board at the other.
Dad's Floating Dock and Bathhouse
Some time later, when Tom was in the tomato seed business, a Mr. Mobley was hired to oversee the extraction of the seed. He and his wife introduced us to canoeing. So Tom got a canoe for our family as well. Dad again used his skills to build a "canoe house", another floating dock. This one was fully enclosed on three sides and open on one end so we could run the canoes inside to keep them out of the weather. We became quite adept at handling our canoe, or so we thought. The Mobleys had us deliberately tip the canoe over, filling it with water. Then we learned to "pump" the water out by rocking the canoe from side to side. With some practice we could get nearly all the water out. Next we were taught how to balance the canoe as we got back into it, from the water. Maybe we got a little over confident! One day Jean and I borrowed some tools from Dad to repair a diving board that had been installed on the "tower" at one end of the lake. As we were getting into the canoe from shore it flipped so fast that we hardly knew what happened! Naturally, the bank was quite steep at that spot, so it took a lot of diving to retrieve Dad's tools. Finding the tools was very important, as we had pretty much signed our lives away to get them in the first place—not to mention the fact that without the tools we would have to explain what happened to them, and that would have been most humiliating!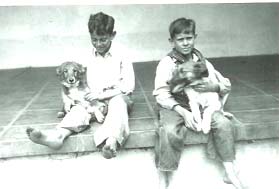 Alan, Leigh, and Puppies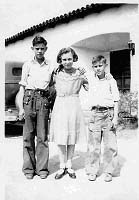 Alan, Jean, Leigh
During the early years the ranch operated a large packinghouse. Tom's high-school friend, Lee Brown, was the packinghouse manager. He had also held the same job at the Co-operative packinghouse in Los Mochis, before following Tom to Simi. We packed tomatoes, bell peppers, grapes and persimmons for the Los Angeles Wholesale Market, then located on Central Ave, between 7th and 9th Streets. I was too young to work in the packinghouse, but I remember being there often with my father. The most intriguing thing to me was to watch the box-maker at work. The lug boxes were made of wood at that time. The box lumber, called "shook", came pre-cut for whatever size box you were using. There was a jig set up to hold the box ends while the bottom was nailed on, then that assembly turned on its side for nailing the sides. The last pieces nailed in place were the cleats at the top of the end pieces. The lids were also nailed in place, but that happened in another location, after the boxes had been packed. Nails came in 100-pound wooden kegs. These kegs were emptied into a hopper from where they could be raked down into a device that arranged them, head-end up, in grooves that opened within easy reach of the box-maker. He would grasp several nails at a time between thumb and finger, then pull them out the end of the slot. The first stroke of the hammer started the nail and the second stroke drove it home. Actually, he used a small hatchet, not a hammer. It had a square head and shorter handle than a hammer. It also had a notch in the blade that could be used for pulling nails. I still have one of those "box hatchets" in my shop. Roofers use the same, or similar, hatchet for laying wooden shingles and shakes. The box-maker was paid by the box, so naturally he became very fast at his work. Many years later, when I was selling equipment, I ran into a man, Alan Eads, from Thousand Oaks, who had worked as a box-maker in our packinghouse. (As most of you know, there is an Eads Road in Thousand Oaks; they are an old-time family there).
Tom took me to the Wholesale market once. I think the market was only open from midnight till noon, so we must have been there in the early morning. Three things stick in my mind. One was how crowded and busy it was with trucks unloading produce, buyers and sellers haggling over prices, and other trucks loading produce for delivery to the markets. Another was some very old trucks; so old that they had solid rubber tires. They probably never left the market area, moving produce only from one brokerage house to another. Lastly I remember sitting in the car while Tom was talking to a broker. I was watching with interest as some men were unloading a truckload of bananas. I must have put on my best forlorn look, because one of them tossed a small bunch of bananas onto the seat of the car!
Tomatoes were a large part of the early years of Sinaloa Ranch. Besides growing for the fresh market, they were grown for cannery and seed production. Haven Seed Company in Santa Ana was the outlet for the seed. They sent Mr. Mobely to oversee the seed extraction process. The method used at that time to break down the jelly sack that surrounds the seed was to let it ferment for a day or two. In the beginning this was done in oak barrels. As the business grew, the barrels were abandoned for a much more efficient "Seed Plant". This consisted of two large, square, redwood tanks. Next to the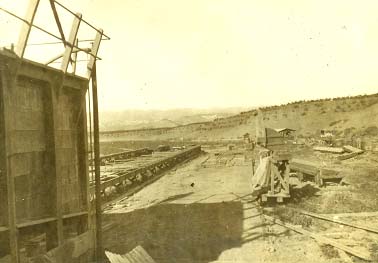 Tomato Seed Plant
Fermentation tank on left.
Washing and separating flumes, center background.
Seed drying trays in right background.
Seed bagging area in center.

tanks was an earthen ramp. The wagons, with long, water-proof boxes, were pulled up onto the ramp and the rear gate of the box removed. The tomatoes were then shoveled out the back into a hopper that fed into a chopper, which then fed to one or the other of the fermenting tanks. In warm weather the seed was ready to be washed in one day. In cooler weather it took two days, thus two tanks. When it was time, the gate at the bottom of the tank was opened into a long wooden flume that had a very gradual fall. At intervals in the flume were what we called "riffle gates". These were just pieces of wood about three inches high that could be inserted and removed at will. After the juice had drained from the tank, a stream of water was started near the outlet gate in order to move the pulp out of the tank. As this mixture of pulp, seed, and water moved along the flume, the seed went to the bottom and collected behind the riffle gates. The pulp, being lighter, floated on out the end of the flume and into evaporation ponds. When the tank was empty, the seed in back of the riffle gates was stirred gently to float out any remaining pulp. After that the flow of water, at the lower end of the flume, was diverted into a deep seed collecting box. The riffle gates were then removed, one at a time, starting at the lower end. When all the seed had been collected the flow of water was stopped. We used a two-inch molasses valve to drain the seed into a heavy cloth bag, which let the water go through and retained the seed. The seed was then put into drying trays, to dry in the sun. These trays were about 20X40 inches, 4 inches high, with screen bottoms for air circulation. The seed was not more than ½ inch deep, and required frequent stirring to keep it from sticking together in lumps. Rubbing them between our hands could break up any lumps that formed.
Some of our ancestors used flumes and riffle gates to separate gold from sand and gravel in the gold rush days of California.
I must confess that many of these details I remember from doing all these things in San Telmo, where we had a nearly identical seed plant. I have vivid memories as a young boy of observing these things, and also using the plant during the off-season as a play area. I'm not really sure we were supposed to do that! As the old oak barrels started falling apart we used some of the staves to make skis for sliding down the steep hill near the house. That didn't work very well, but we had better luck with sleds with barrel stave runners. There were two places on Mt. Mccoy that were barren of brush, very steep, and had loose, crumbly dirt. We hauled our sleds over there and got some good rides. As the seed business grew Tom bought another ranch several miles away, and also leased ground in that area. Since we were still in the mule era it was not possible to transport tomatoes to the original seed plant, so he built a second plant on his new ranch, called the Smead Ranch. All of this expansion made him the largest producer of tomato seed in the world. In fact, Haven Seed Co. sold seed to many places in the world. All this production came just before the world fell into a long depression. As a result Tom found himself with way more seed than could be sold. The only good thing was that tomato seed holds it's germination quality for several years, so he eventually sold all the seed. I think that was the end of the seed production for us, for a while at least. Stay tuned!
One of the more memorable birthday presents that the folks gave me was an Erector Set, with a small electric motor. I spent many hours making elaborate machines, with all sorts of moving parts. I gave that set to Danny when he was old enough to work with it. Maybe that had something to do with him becoming a Mechanical Engineer!
Leisurely summer evening walks around the lake were a frequent occurrence, especially when we had guests for supper.
I don't remember a time that we didn't have riding horses. Tom had brought his horse, Rosillo, up from Mexico and purchased a large, strong horse called Cowboy. Tom thought that he was a Morgan, or at least partly Morgan. Over the years there were others. One was a small mare called Cocky. She was part Welsh Pony. We had her bred to an Arabian stallion at the Kellogg Farm in Pomona. That would seem like a strange combination, but her colt, Sundown, was a very handsome animal. He had the head and general conformation of an Arabian, only shorter and stockier. He was strong and spirited. He was not really my horse, but I was the first to ride him and almost the only one to ride him. Another large gray mare, called Dinah ,Tom bought from a man that had bought the Cannell ranch nearby. This man was having trouble making the payments on the ranch. Tom agreed to buy the mare on the condition that half the money go directly to Mr. Cannell. The Cannell family was closely tied to the Robertson family from the time that we arrived in Simi. Bob Cannell came to work for Tom as a young man and soon became ranch foreman—a job he held until the late forties, when he left to operate his own ranch.
Dinah also produced some nice colts sired by the Stallions at the Kellogg Ranch.
When we first started riding we rode bareback, unless someone was around to saddle up for us. No way were we able to lift a saddle onto the larger horses. As a matter of fact, I had to stand in the manger to put the bridle on. Alan, Jean and I rode together a lot. I usually rode Rosillo, with the other two double on Cowboy. Tom had warned us never to let Rosillo run when headed back to the barn, as he was very headstrong once he started running. One day I decided that surely I could handle this horse, so I let him go into a slow lope. When he started to run a little faster I tried in vain to rein him in. By the time we reached the barn he was in full flight and I was in full panic! He made two circles around the barn, dodging wagons, and other farm implements. I had visions of flying off headlong into a plow or disc, but he finally decided that he had had enough fun and came to a halt in front of the barn door. When I got back on Mother Earth, he turned and looked at me as if to say "when can we do this again?" That was a tough way to learn that just possibly my father should be listened to.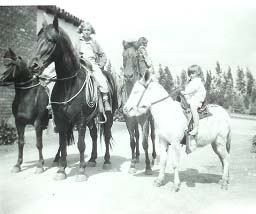 Alan Jean Leigh Rae
(Hidden)
Cocky, Cowboy, Rosillo, Snowball

One day, when I suppose I was about twelve, two of Alan's friends (Allen Gardner and Jim Patterson) came by on their horses. Alan and I decided to ride with them up onto the McCoy Ranch- now Wood Ranch. After an hour or so, Jim suggested that Thousand Oaks was just over the next ridge, and we should ride on over and see the lions at Gobel's Lion Farm. Well, it turned out that there were several next ridges. We finally came out at what is now called North Ranch, in Westlake. There we found a windmill where we could water the horses and get a drink ourselves. By now it was mid-afternoon and we were starved. It was about another mile west to the lion farm, and along the way we found a little restaurant. We all put whatever coins we had on the table. I think we had a grand total of 35 cents. We asked the lady to bring us whatever she could for that amount. I think we each got a half a sandwich.
We finally arrived at the lion farm, but of course we couldn't pay to get in, so we stood on the backs of the horses to peer over the wall. Of course that lasted until the first lion's roar, at which our horses decided it was time to go home! It was well after dark when we arrived back at the ranch. Tom was waiting for us at the barn. Needless to say, all of the parents were quite upset—not at what we had done, or how long we were gone, but just that we didn't tell any one what we were doing. Another lesson learned the hard way!
Leigh on Rosillo, on the occaision of Simi's first Pioneer Day, about 1934

Mount McCoy, adjoining our ranch on the west, was a favorite hiking destination. There was a canyon that ran about halfway up to the summit, filled with oak trees. One day Rae and I found parts of what we later found out to be from a slot machine. Some of them were legal at that time. When we brought the front cover home as a curiosity, Tom suggested that we keep it out of sight. It seems as though someone had recently stolen a slot machine from an establishment in Simi, and he didn't want to draw suspicion to us! There were also stories suggesting that Joaquin Murrieta had buried some stolen treasure in the canyon, but if he did, it is still there!
At the top of Mount McCoy was a very large wooden cross, purported to have been there since the days of the California Missions. It had served as a landmark for travelers between San Fernando and Ventura. All the churches in the Valley joined in conducting Easter Sunrise services at the cross. There was a friendly competition among the younger people to be the first to arrive on Easter Morning. Since we lived so close, The Team Robertson was usually among the earliest arrivals. Some people preferred to drive most of the way, then hike a short distance to the top, but the hikers were always there first. After the services, the more adventurous hikers took off downhill at a full run, in another race to be the first to the bottom of the hill. I'm not sure how we all managed to survive that little exercise without serious damage.
These growing up years were also depression years. Even though we didn't really feel it in the sense of being hungry or cold, we were aware of it. Dorothy was very careful about her household expenses. The only reason Tom didn't lose the ranch was that he owed so much money on it that the banks didn't really want to foreclose. They felt it was better to go along with him and hope that he would be able to hang on and repay them eventually. This he did, but it was a long hard struggle, and involved selling off some parcels of land.
I didn't understand it at the time, but I now realize that a lot of the things the folks did, they did to help some neighbor that was having a tougher time than we were. We bought such things as eggs, turkeys, chickens, an occasional goose, haircuts, fresh vegetables, etc. from people that desperately needed the money. I'm certain that even a couple of the horses were bought more to help out the sellers than any thing else.
Alan, about 1933
One year there were so many people needing work that Tom agreed to have one group work in the morning and another group in the afternoon. This meant more management problems and extra timekeeping and payrolling expense, but it at least helped more people through some desperate times. In spite of what John Stienbech and others would have you believe, not all California farmers were wealthy and ruthless.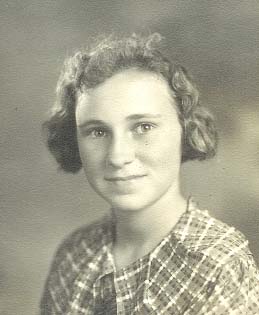 Jean, about 1933

I recall one incident that, while not typical, did leave a lasting impression. One evening a car drove up to our house. It carried a man and wife and some children. The man talked to Tom for a long time, pleading for work, as they had been without food or shelter for a long time. We already had more workers than we needed, but Tom finally agreed to give him work. Dorothy went to her pantry and filled some boxes with food. We scrounged up some mattress pads and cots and blankets. Tom told them that they could spend the night in the packing shed, which was not being used at that time. He was told to report to Bob Cannell at seven the next morning for work. Also that Bob would get them located in a tent with a wood floor, which was all the housing that was available. They were ever so grateful to both of the folks for their help. Alan and I got them settled into the packing house and showed the man where to report for work in the morning. As you may have guessed by now, in the morning they were nowhere to be seen! Gone also were the blankets, pads and cots we had given them. They had accepted the folk's generosity, but apparently had second thoughts about working!
Animals were much a part of our lives. Besides the horses, we had, at one time or another, dogs, cats, chickens, ducks, cows, hogs, a donkey and of course the mules for farming.
Occasionally we took care of a white burrow named Snowball. His owners traveled a lot, and they left him with us. We had a two-wheeled buggy that we hitched him to. One of our favorite things to do was to go to the top of "Lookout Hill", the highest point on the ranch, then race down, urging Snowball into a full run. The road was quite steep, and the ride quite exciting!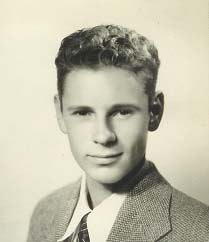 Leigh, about 1933
Sort of a roller-coaster for country kids.
Once Rae, Merilie and I decided to take the buggy to school. We left bright and early, but after a couple of miles Snowball decided he had gone far enough. There was no way to change his mind, so I tied him to a tree off the road and we caught the school bus. In the afternoon we dropped off of the bus and he cheerfully took us home.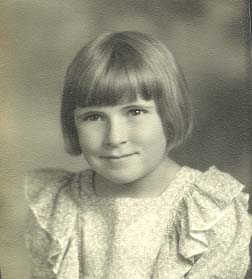 Rae, about 1933
Alan had a milk cow as his high school agriculture project. Suzie was her name, and demanding to be milked was her game! Dorothy bought as much milk as she needed for the family, even made butter from the cream. The milk was put into shallow pans to cool and let the cream rise. Some of the cream was churned into butter. That always seemed like sort of a magical process. We would churn for what seemed like an eternity, then suddenly in an instant the cream turned yellow, and hardened into butter. If there was milk left over, he sold it as he could, or it was fed to Jean's chickens. Our household was also Jean's principal customer, but she too sold eggs to the neighbors. I think these projects lasted more or less through their high school years. I occasionally took care of these animals when my brother and or sister were not around. The summer before his senior year Alan and Dad took a
three month trip to Denmark to visit Dad's family. I milked his cow that whole summer. I was well paid, but I sure learned that I never wanted to milk another cow!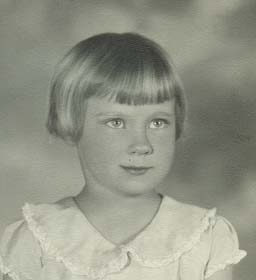 Merilie, about 1933
Some of the money I earned that summer I spent for a model airplane, with a gas engine. I spent months putting it together, piece by piece, then stretching silk over the various components. Finally, I had the engine in place and was ready for flight. The problem was that there was no way to control that flight. Some how I just could not bring myself to launch my plane, knowing that it would surely crash. So, it hung in my room for several years. Just recently Sean and I tried to fly his glider with remote control, with disastrous results. All in all, my flying experience is not too good. Aren't we glad that I did not pursue becoming an aeronautical engineer, as I had once contemplated!
Tommy, about 1933
One year Alan and I raised two hogs. We fed them table scraps, barley and cull beans that Tom got at the warehouse for next to nothing. When they were ready to slaughter Tom bought one for our own use and to share with friends. I well remember taking the other one to a small slaughterhouse in the Pacoima area. We were paid the princely sum of $.04 per pound, bringing home a check for eight or nine dollars! That was a lesson I should have learned and didn't. It took one more experience, years later in Mexico to make me realize that I wanted nothing to do with livestock as a business.
We had a nice collie dog named –what else, Lassie. We also had an Australian Shepherd. I think his name was Pal. Because we didn't have any sheep, I suppose, these two dogs spent hours chasing birds, of all things! They would run through the orchards, chasing birds from one tree to another. When we went to the lake for swimming or boating the dogs went along. They would jump into the water and paddle endlessly in pursuit of mudhens, Of course the mudhens paid no attention until the dogs were within a few feet of them. At the last minute they would fly to the other side of the lake. The dogs would then start the chase all over again, seeming never to get discouraged. Although they devoted several hours a day to chasing birds, as far as I know, they never caught one. This bird chasing seemed, and still seems to me to be very bizarre for those bree
At about the age of sixteen I learned to harness and hitch a team of mules. These were not the small mules you see today for riding or pulling wagons in parades. Our work mules were big--bigger than most riding horses. They were definitely not pets! They tolerated no patting or touching, except what was necessary for harnessing. Each team was matched for size, color and temperament. At one time, when he was growing lots of tomatoes, Tom had forty or fifty mules. By the time I got involved with them there were only four or five teams left. We were not farming nearly as much ground, and tractors were taking over most of the heavy work.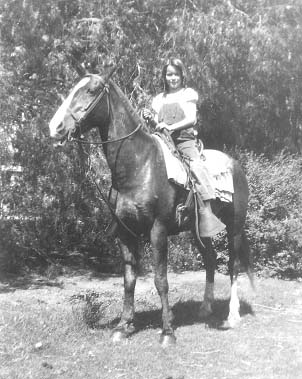 Who is this mystery rider?
Click here for a clue
The team I remember best was Suzie and Negra. They were the largest of the remaining mules, and very strong. I was told from the beginning never, ever to show fear because the animals would sense it, and I would not be able to handle them. Well, I may not have shown it, but I tell you true-I was terrified!
Hay was put into the mangers early in the morning. Each pair would go to their own stalls to feed. When all were inside, the barn door was closed, and the moment of truth was at hand! I think the worst part was going into the stalls to fasten the halter chains. These beasts were so nervous they were trembling, and in truth could have trampled me to a pulp in an instant. By watching the Mexican muleskinners I learned that you could calm them somewhat by constantly talking to them. This also served to let them know where you were, as they did not like surprises. The harnessing had to be all business. You could put the collar on, throw the harness over the back and buckle everything in place with no problem-so long as you followed a routine. They just did not want to be touched in any way that was not necessary.
My first job with a team was to "roadside" grapes-that is haul the boxes out of the Field to be loaded on trucks. I was also responsible for keeping empty boxes in front of the pickers. In later years we started taking the trucks into the vineyards, which eliminated double handling. However, there was one advantage to using the mules, because once you got them started down a drive row they would start and stop on voice command, freeing the driver to stack his load. We were never able to teach the trucks to do that!
At harvest time the families of the regular employees would come out to earn extra money. I remember very clearly one day that Joe Jones' wife, Edris, came out to pick grapes. Their oldest girl, Janice, was only a few months old at the time. Edris spread a blanket on the ground in the shade of the vines and left Janice there with some toys. About mid-morning Suzie developed a sore shoulder, under her collar. Bob Cannell, the ranch foreman told me to take her to the barn and bring another mule. So I left Negra tied to the end post of a grape row while I went for a fresh Mule. When I got back my heart nearly stopped. Janice had left her blanket and crawled over to Negra. There she was, smiling happily, directly under the mule's belly. I knew I couldn't move Negra, so I called to Janice and coaxed her to come to me. All this time Negra had not moved a muscle. Seeing that mule, who so terrified me, be so totally patient and careful of this tiny child was a real eye-opener. I think on that day fear turned to respect, and I was much more at ease with the mules.


Dad Robertson's first house at Sinaloa Ranch

Another thing I learned about driving a team of mules was that you really didn't need a watch to tell you when quitting time came. They were willing workers, responding to word commands or the slightest tug on the reins, but precisely at 11:30 AM and 5:00 PM they knew it was time to head for the barn for water and feed! No amount of persuasion would make them start down a row that headed away from the barn.
We had one mule that was out of a thoroughbred mare. Muneca had such a fast walk that she couldn't be put in a team--none of the other mules could keep up with her. All of the jobs for a single mule required that the man walk, which made it sort of hard on them to keep up with her. She was not exactly a favorite of the mule-skinners! She also had this other tiny problem-she could jump any ordinary fence. I once saw her standing flat-footed in the corral and then just nonchalantly jump over the fence. The new barn had windows about four feet off the floor, and she would sail through them with ease. Tom sold her several times but she would always come back after a few days, and the money returned to the buyer. I think she was finally sold to someone that understood the problem and was able to keep her corralled.
Tom wanted Alan and me to learn about as many different things as possible. Besides all the usual ranch jobs, we were assigned to most of the unusual ones. One summer we spent inspecting the orange trees for a disease called "Scaly Bark", treating those that were infested. We had spent a day on the Irvine Ranch in Orange County to learn how to do this.
Whenever a parcel of land was sold we worked with the surveyor pulling "chain"-a three hundred foot steel measuring tape. We learned the basics of using a transit to measure angle and elevations. Tom taught us to use his "Dumpy Level" to lay out contours on hillsides.
At various times I was assigned to work on a well drilling rig, on deep-well pump installation, on the installation of our walnut huller and dehydrator, as well as some carpentry jobs. Of course we learned all the normal ranch chores-driving tractors and trucks, pruning grapes, irrigating, lighting smudge pots, running wind machines, and some accounting. All in all it was a pretty well rounded education. I think it was about this time that I started to realize how many things one could learn to do, simply by watching and asking questions of someone that really knew his trade. Most people are glad to teach you if you show a sincere interest.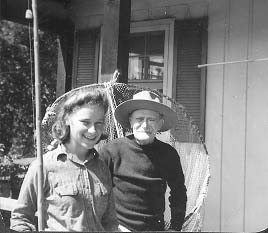 Dad and Merilie, ready for a fishing expedition at the lake
Nearly everything we needed for everyday living was delivered to the house. Ice for the icebox came twice a week (Union Ice Co.) It was an exciting day when Dorothy got her first refrigerator--a GE, with the coils on top.
Milk was delivered three times a week. Our dogs, who were otherwise quite gentle, became ferocious when the milkman arrived. Some how they had figured out that if they made enough commotion he would bribe them with a little milk in their bowl, which was conveniently close to the back door! He didn't seem to mind-I suppose that it was a little game that he played often on his route. It's amazing to me to think of how much our world has changed. In those days there were many small dairies, serving small areas. In our community of less than a thousand people there were always at least two dairies, and another in Moorpark. Surely there were dozens in Ventura County. Now there is only one!
Hauser Bros. in Moorpark had a meat market and also ran a delivery route. They had a truck rigged with large cooler boxes for storage. The back opened up to a work area--cutting block and scales. After Dorothy chose what she wanted from what was available, Leo-or Harold, would cut it from the hind or fore quarter. Mostly she got some kind of a roast, round steak, or "ground round", as hamburger was called then. The only steak we ever had was round steak. I think I was a grown man before I knew there was any other kind! Sometimes, if we kids looked mournful enough, we were given a free hot dog. As hard as we worked at this, we didn't have nearly as good a batting average with the butcher as the dogs did with the milkman!
Dorothy bought brooms, mops, brushes and floor wax from the Fuller Brush Man, who came two or three times a year.
In later years the Helms Bakery made door to door deliveries, but I think I was grown by then.
There was another wondrous truck that came once or twice a month. It was the J.R. Watkins man. I still remember his name- Merle K. Weasle. He was a fixture in Ventura County for as long as I can remember. Such a nice man! He sold all sorts of household products-just about everything that the other delivery trucks didn't. We were the occasional recipients of a pack of chewing gum from Merle K. Weasle.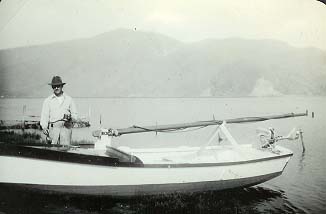 The folks and the four younger children spent the summer of 1939 with Dad, at his cabin at Point Mugu. Under Dad's supervisition, we built an eighteen-foot boat. About four feet of the bow was decked over. It had a fold down mast, and retractable keel, or centerboard, for sailing. Rae and I were much a part of this endeavor, and maybe Merilie as well. Rae chose the name 'Hyar 'N Thar" For those too young to remember, that was one of Li'l Abner's frases. Who was Li'l Abner, you ask? Just our favorite comic strip at that time. The Hyar'N Thar served us well on a couple of trips we made to Puerto Santo Tomas in ensuing years, and also on Sinaloa Lake.
In the summer of 1933 we took an extended trip to Oregon. The folks, Jean, Rae and Grandma Whitzle traveled in the family sedan-maybe a 1932 Dodge. They also pulled a small trailer to carry suitcases and such. Alan and I went in the back of the ranch truck, driven by Lee Brown and Murray Clay. The day before we left some one told us that the grasshoppers were swarming on a hillside next to the ranch. Alan and I thought it would be a good idea to gather a bunch of them to use as bait for the much anticipated trout fishing in Oregon. We got a tightly woven basket and a cloth to cover the top and set off to gather grasshoppers. After we had stuffed a bunch into the basket, we tied the cloth cover securely, certain that our bait would be able to get air and arrive safely at our destination. When we arrived in Oregon we peeked in the basket, and to our dismay not a single grasshopper was inside. We never could figure out how they escaped!
The first day we traveled as far as Sacramento. There we met up with the folks at a motel. That evening Tom took us all to the dog races. That was the first and only time in my life to see the greyhounds run. I'm not sure where the others stayed the second night, but the truck crew only made it as far as Dunsmuir, in northern California. Al and I went to a movie in the evening and the men found some other more adult activity that, for some reason, they didn't want to talk to us about! By pre-arrangement we were to meet the others at a park next to Highway 99 in Grants Pass at noon of the third Day. We arrived a little early and passed the time by watching a group of older men pitching horseshoes. I still can't believe how good they were! Out of four shoes thrown there were nearly always four ringers. These men obviously took the sport rather seriously!
Our long time friends, the Cannells, had sold the ranch in Simi and moved to a small town South West of Portland, Forrest Grove, I believe. Tom had second cousins in another small town not far away. He had arranged with one of his relatives to cut small fir trees to serve as props for the limbs of the persimmon trees, which were coming into heavy production. These small trees were about three to four inches at the large end and 12, 14, and 16 feet long. These poles were to play a large part in the lives of the Robertson children. They are fondly remembered as the "Oregon Poles".
Work had already started when we got there. I went with Tom to see to the loading of the truck, and to check out the poles. It seems that the person cutting the poles was not coming out too well, so the price per pole was negotiated upward, from four cents to six cents. Were times tough or what? It was also decided that the rest of the poles could be shipped more cheaply by rail car.
We stayed for some time with Tom's cousin, Mabel Williams, her husband Claude, one or two daughters and two foster children, Bob and Mary. They lived in a large two story house on their farm, or more properly, Grampa William's farm. The elder Williams lived in a smaller house nearby. I remember him as being a bit grumpy, but from recently reading some of Mabel's writing I gather that he was a bit of a tyrant. Ranch life there was totally different than what we were accustomed to. Our ranch produced all cash crops, plus some garden and fruit trees. The Williams ranch produced precious little cash. There was a large barn with a loft for storing hay and stalls for milking cows. The price of milk was so low that they were producing and selling very little. As I think about it, I believe they were separating the cream to be sold to a creamery. This cream was put in stainless steel cans and left on a stand at the end of the driveway to be picked up by the creamery. The skimmed milk was fed to a few hogs that were being raised. Uncle Claude had grown some potatoes, but there was no market for them, and they were being fed to the hogs as well. Other than selling a little cream the only other income came from selling an occasional hog or calf. They did, however, produce and preserve nearly everything they needed to eat—milk, cream, butter, eggs, meat, fresh fruits and vegetables. My aunt did lots of canning of fruits and vegetables, and even beef and chicken. I believe that they cured their own ham and bacon. The grocery shopping list was short—flour, sugar, salt and spices.
Our aunt told us that she would bake us a berry pie any time we wanted it—the only catch being that we had to gather the wild berries. This we did nearly every day. What a treat! There was also a large cherry tree at the farm across the street, which belonged to more relatives, so obviously we had many fresh pies.
Bob was about my age. One day we went with Claude to help him put up hay. With pitchforks we put the mowed and wind-rowed hay into shocks—small stacks-- for drying. After that we helped him load the truck with hay that was already dry. This hay, loose, not bailed, was then put into the barn loft, using a large hay fork on a long rope over some pulleys suspended from a track at the peak of the roof. Power was supplied by a horse. As a reward for our labors we got to ride with my uncle in his truck to Portland the next day to sell a couple of yearling calves.
One of my Oregon cousins, Orville Reynolds, was to come into my life again at Fort Lewis, Washington, in 1945.
It turned out that the persimmon market was so bad that it didn't pay to harvest them. Tom decided to pull out the entire orchard and replant with concord grapes, to be sold to the Utt Juice Co. in Tustin. The now unneeded Oregon Poles were put in three large stacks, end to end, near our house. Rae and I, and to a lesser extent, Merilie, would play for hours on those poles. The three stacks formed the rough outline of an old sailing ship, so we put up a couple of masts, and sailed off to wondrous places. Along the way we discovered new lands, and repelled many pirate attacks. Sometimes we used the poles to build houses, or forts, or whatever struck our fancy. It was great to have an inexhaustible supply of building material!
Our crowning achievement was a tree house. This was strictly a Rae and Leigh project. We carried and dragged a bunch of poles out to the eucalyptus windbreak. There we fastened the poles between four trees to form a square about ten by ten feet. Next were more poles crossways to support the floor, which was made of wooden trays that we dragged up from the packing shed. These trays had been used to dry peppers in the sun, but we were no longer growing peppers. Then more trays and more poles to form a railing about two feet high all the way around. Of course, we had a ladder that could be pulled up after us, to keep out invaders.
When the tree house was finished Rae and I wanted to spend a night there. Dorothy agreed to come with us, bringing food for our breakfast. Wasn't she a great mother!
Some years later the "Oregon Poles" mysteriously went up in a huge, roaring, crackling fire. Only recently did I learn that a couple of my younger siblings, who shall go unnamed, had been out there playing with matches.
I have only a few strong memories of Grammar (Elementary) School. I will never forget the bus that I rode for all eight years, or the driver, Mr. Shaw. The bus was built on an old Moreland truck chassis. In the front were conventional seats, but in the back half Mr. Shaw had built wooden benches along the sides, and down the center. I wonder what Ralph Nader would have said about that bus.
My main interest at school was sports. The buses had to make two runs each morning and afternoon, so those that caught the early morning bus and late afternoon bus had about an hour before and after school to play. We played basketball, speedball (sort of like soccer), and softball. In the eighth grade someone organized a touch football team. Tom volunteered to bring an old high-school friend, Marvin Morrison, to give us a few pointers. Marvin had been a small college All-American, at Pomona College-I believe. He showed us how to hold the ball for passing and punting. When it came time to actually kick the ball he apologized, saying that he had not done this in more than twenty years. Well, he proceeded to send a perfect spiral about fifty yards in the air! I could only wonder what he could have done in his prime!
I only remember playing two other schools, Saticoy and Santa Paula. It would be more accurate to say that I would rather NOT remember them. Those boys were bigger, stronger and tougher than we were. Although there was no tackling, the blocking could be rather fierce. We got beaten up pretty badly. PLEASE, do not ask why I opted to play six man football the next year in high school!
I didn't realize it at the time, but something memorable happened when I was in the eighth grade. We were invited to attend the May Day Festival put on by the Moorpark school. The Queen of the May was tall and beautiful. One of the Moorpark boys told me her father was the principle of the high school, and her name was Barbara!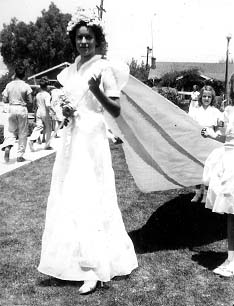 Queen of the May
Alan and I were very close. In fact I don't think I could have had a better big brother. He never seemed to mind including me in his activities, even though I was four years younger. Maybe that very difference in age helped, as we were never competing with one another. We even did our Christmas shopping together. We would pool our money and buy gifts for the family and the Hess cousins. One year we got Dorothy Mae a five-year diary. She let it be known that one gift from the two of us was O.K, but we couldn't get away with making it do for five Christmases!

Alan gave me my first driving lesson, which nearly ended in disaster. We were driving toward home on Royal Avenue when he stopped and told me to drive. I got started, with some coaching, and was sailing along nicely until we approached a hard right turn. He yelled at me to slow down, but we had not had a slow down lesson yet, so I just froze. At the last minute I did realize that I could not make the corner, so we shot across the road, dodging a pump house and landing two rows deep into Montgomery's apricot orchard! Fortunately, there was no harm done. Alan took over, and on the way home he looked at me and said "we probably don't need to tell the folks about this". He was both wise and patient, because he did eventually teach me to drive.
The only time I would get fighting mad with him was when we were literally fighting---boxing, that is. Tom gave us some boxing gloves for Christmas one year, and put up a punching bag. After practicing on the bag for a while, we decided to spar with each other. All was well until he popped me on the nose. Now, this was not a serious blow, but in those days I had a big problem controlling my temper. I went wild, trying my best to retaliate. Of course he was able to deflect my blows, which made me all the madder. That happened two or three times, till I decided that he was going to have to box with someone else.
Naturally, the lake was a large part of our recreational activities. Dad always had a boat or two, and for a while we had a canoe. Dad taught us to row and sail a boat, and to fish with bait, preferably live bait that was caught with a cast net. Later, Tom taught us to cast with fly and plug casting rods.

The far end of the canoe house was open, so that we could paddle inside. It held two canoes. We got to be quite adept at handling our canoe.
I remember as a very young boy being enthusiastic about going to the lake to swim, then sitting on the edge of the bathhouse, afraid to get in the water. Each time we went I resolved that this would be the day that I got in the water, but I just couldn't. I don't recall how long this went on, but I finally did get in and learn to swim. I never was a fast swimmer, not much on form, but I was very comfortable in the water, able to stay in for long periods without tiring.
Looking back, I marvel at the freedom our parents gave us to use the lake on our own. As soon as we were able to handle a boat and take care of ourselves in the water we were allowed to go by ourselves—not alone, but in pairs or a group. I'm not sure of the age, but surely by the time we were ten or so we pretty well had free reign.
In contrast to our freedom to use the lake, or the horses, or the .22 rifle, the folks wouldn't let me buy a bicycle, even with my own money! They seemed to think that getting out on the county roads was too dangerous. You may well ask why, with all the other things we had to entertain ourselves, I wanted a bicycle. There isn't any good answer to that, except that some of my friends had them. Could it have been that those friends were the very reason they didn't want me to have a bike?
Anyway, it was never a major issue. However, imagine my surprise and chagrin some years later when the three younger children were given a bike for Christmas! I had outgrown my desire for a bike, but I tried my best to lay a guilt trip on them, saying they were getting special treatment, that the folks had gone soft and that it just was not fair. I'm certain that I had at least some success with the girls, but Tommy would have no part of that. He was gleeful about the whole thing, making a point to ride back and forth in front of me.
One summer when we were maybe fourteen and eighteen, Alan and I developed the first unofficial "ironman" competition. We would jog about a half mile to the lake. After swimming and diving for a while, we would work our way to the far end of the lake, then race home, swimming about three or four hundred yards and running the last half mile. No matter how much headstart he gave me, he always passed me about fifty yards from the house. Some things are hard to admit, but by the time I finished high school I realized that he was just a much better athlete than I, in any sport.
All in all, our growing up years, at least in my view, were about as good as it gets! We had a 500 acre ranch to roam on, a lake for recreation, and access to a couple of other cattle ranches to ride our horses on. We had an endless supply of discarded building materials for our projects---the "Oregon Poles", walnut and pepper drying trays, broken boxes from the packing house, oak barrels from seed processing, and of course, the "glue" that held them all together---baling wire! All of these things, of course, were fortunate accidents of where we lived and what our father did for a living. What really mattered was that we had such a great family!
How do I describe my parents? Loving, caring, understanding, supportive, trusting, generous, and still they set standards and boundaries that we well understood were to be met and observed. I think that I speak for all of us when I say that we adored both of them.
Dorothy was very intelligent, and wise beyond my comprehension at the time. She had a gentle way of making her point about things that made me very determined to try to make good life choices. Not wanting to offend her was the principle guideline during my adolescence. If I made more good choices than bad,
I have her to thank!
Tom was also very smart and well informed on many things. His influence on me was sort of in different areas, such as sports, hunting, fishing, riding, travel and work. When I was very young I remember sitting for hours by the back door, waiting for Tom to go out on his rounds of the ranch, hoping to be asked to go along. Usually he took me—I had a well-developed forlorn look!
Both of our parents had a great love of nature, the outdoors, and adventure. This led to many great camping trips to Mexico, back in the days when Baja was still pretty remote and little traveled by Norte Americanos. To be accurate, Baja was little traveled, period! The population was still very small, and concentrated in Tijuana, Ensenada, and La Paz, with little travel in between. I plan to describe some of these trips later. I warned you that this would be a random, rambling narrative!
I think it safe to say that Tom and Dorothy gave us a wonderful, down to earth foundation for living!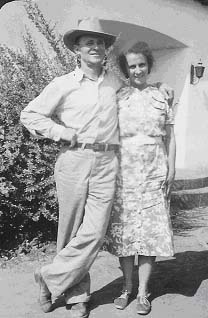 Our parents, Tom and Dorothy Robertson