Back at the Ranch 1946-48
After getting out of the Army I took some time off to spend with Barbara and Danny. We borrowed some camping equipment and drove up to Sequoia National Park for a few days.
The GI Bill made it easy for veterans to go to college, but that still did not appeal to me. I wanted to be a farmer, and I wanted to get on with it.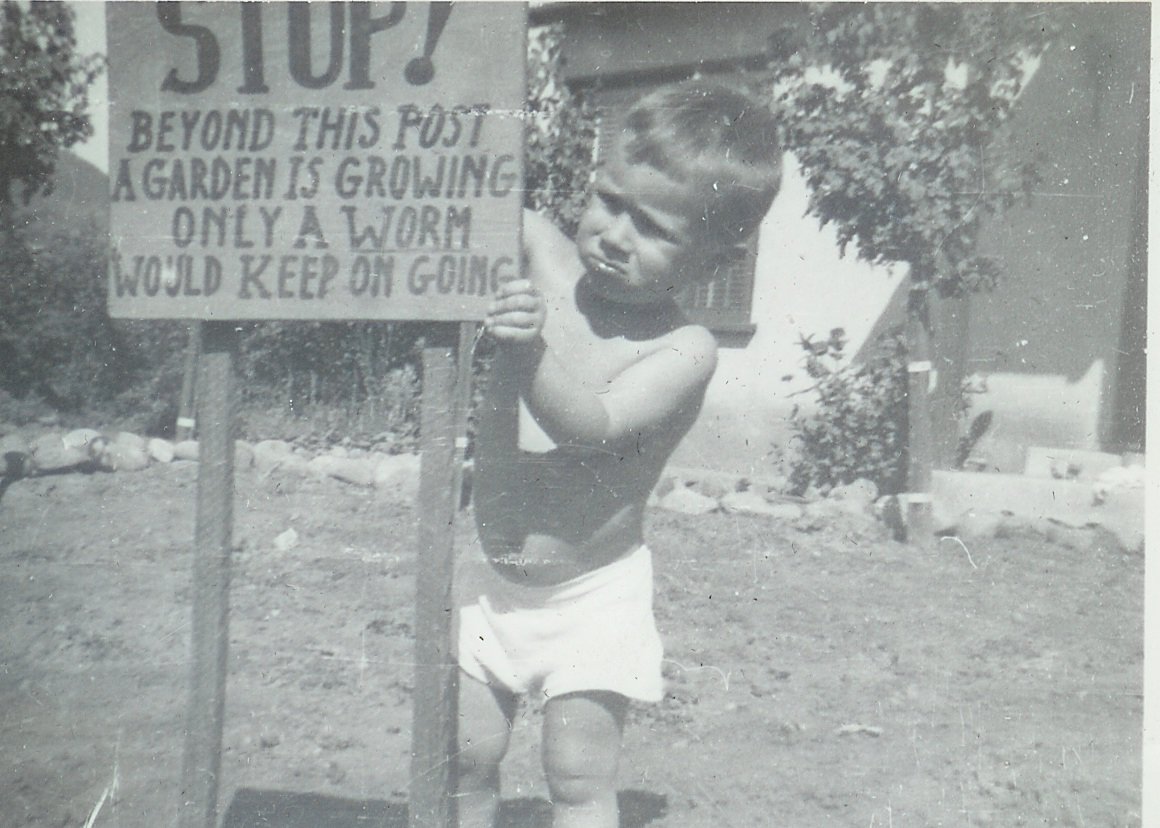 Rae made this sign to protect a newly planted lawn.
I donít know if Danny or the sign is the most intimidating.
One of the first projects I worked on was helping to install a walnut huller and dehydrator that the ranch had purchased, used, from a farmer in Bardsdale. Up until then we had hulled the nuts by hand, and hauled them to Moorpark to be dried. The huller was outside, and the dehydrator inside a large building. We made conveyors and elevators so that the nuts would flow from the huller to the dehydrator and then to the storage bins and baggers. We got this work done in time for the fall harvest.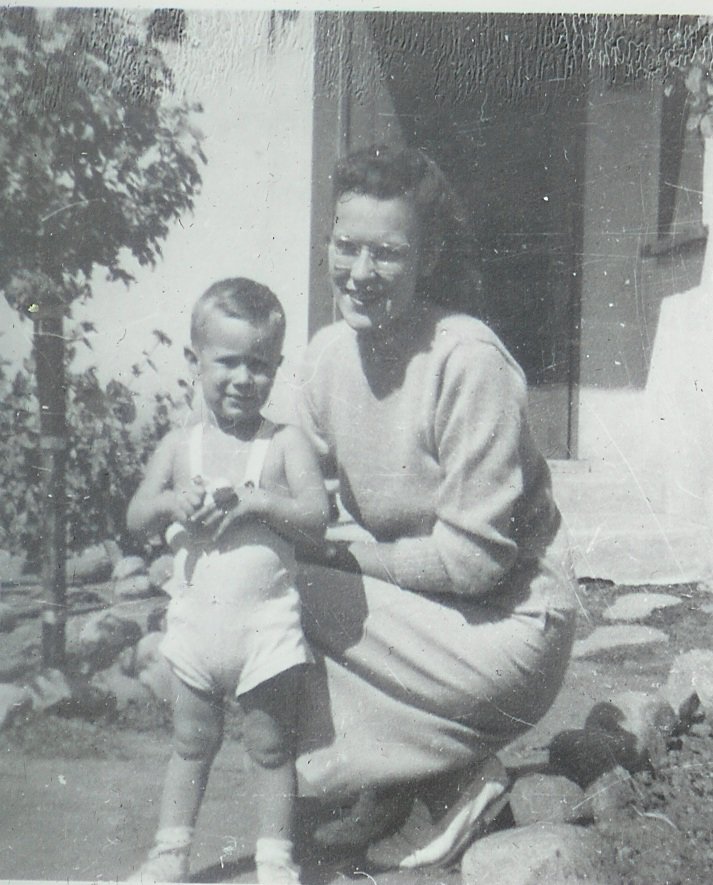 Dan and Barbara, 1945 or 46
I was also put into the office, to learn to keep the books and write the checks. Tom had devised what seemed like a complex accounting system. I know that accounting is an important part of any business, but I canít say that I enjoyed it!
One day I saw a notice in the paper that the Navy was selling several hundred Quonset Huts from the SeaBee Base in Oxnard, for $400 each. Any veteran was qualified to buy one. Alan and I thought that surely we would be able to make use of a building for something sooner or later, so I went down and stood in line and was able to buy one. Of course we had to dismantle it. I think that with one helper we were able to do the job in two days and haul it to the ranch. Later, I ended up hauling the Quonset to the ranch in San Telmo, where it stands to this day!
The ranch took delivery of a new Ford truck that summer, and we had it ready to haul grapes in the fall. Alan and I worked out a system where we would load first thing in the morning, make the run to Tustin, bring back empty boxes, and then reload in the late afternoon. Then one of us would leave early in the morning, to be at the Utt Juice Co. when they opened, unload, return with empties, throw on another load and get to Tustin before closing, getting home after dark. That way we could make three loads in two days. I usually drove every day and Alan every other day.
On April 19th, 1947 our Terry was born at the little hospital in San Fernando. What a happy day for all of us! Danny was so proud of his little sister. When we got her back home he wanted to help take care of her. Our lives were getting fuller!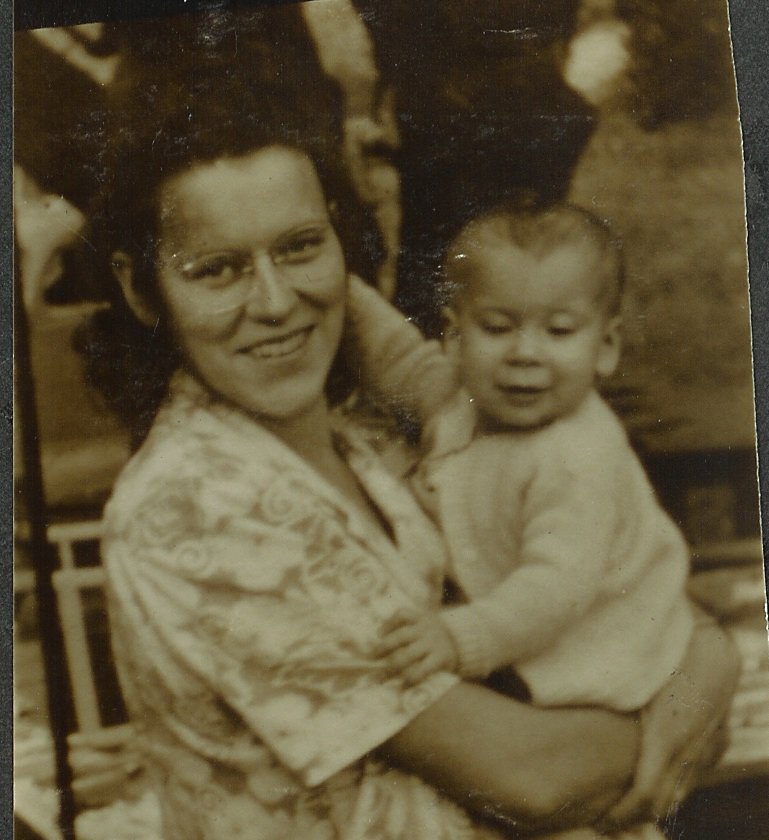 Barbara and Terry
About this time Tom became excited about exploring a reported placer gold deposit in the state of Oaxaca, Mexico. He decided to make an expedition to the area to take samples of the sand and soil at various depths. For this he needed a drill rig of some kind. The U.S. Government had set up the War Surplus Administration to dispose of all sorts of surplus goods. Preference was given to veterans, so I went to the office in Los Angeles to get qualified to buy. We ended up getting Tom a four-wheel drive ambulance, and a Chevy cargo truck from March Air Force Base, near Riverside. When we asked about well-drilling equipment we were told that there were two Star 71 cable tool rigs at the SeaBee Base, in Hueneme, The man said that his report showed that they were in poor shape, so he put a price of a little more than $700 each on them, suggesting that we might want to purchase both of them in order to make one good one. We drove over to take a look and found that they were nearly unused, but somewhat rusty. We did buy them both, as fast as we could!
Tom also bought a "Burma Jeep" from Dr. Baldwin in Fillmore. This was a very short wheelbase, cab-over, four-wheel drive truck. We had the engine on one of the drill rigs tuned up, bought some drilling tools, and the expedition was ready. The cargo truck carried the drill rig and tools, the Burma Jeep was loaded with camp gear and supplies, and the ambulance, having been fitted with a second set of windows and a second seat, carried personnel. I canít remember exactly who went on the trip. Tom and Bill Robertson, Bob Cannell, Steve Riess, and a mining engineer for sure. There were others; maybe Jim Deaver, maybe Tom Cannell.
They did find some gold, but not in sufficient concentration to be feasible to mine it. I know that the drill rig was left behind when they returned, possibly for future use. The only vehicle that I know of that came back was the ambulance. Tom used it for trips to Lower California for the next year or two. This was a rather expensive adventure, but one that Tom said he would not have missed.
Terry and her first Bear. The first of many!
My father was always looking for new projects. I guess thatís natural; starting something new is more interesting than just managing an established business. The next thing that he got interested in was farming in Baja California. This was something that sounded very appealing to me, so I told him that I would like to be a part of this next venture. (In those days we called it Lower California, or Baja California in Spanish. Over time Americans started referring to it simply as "Baja", and Mexicans called it "La Baja". I will use Baja in the balance of this narrative---so much easier!)
Tom had befriended the Mexican Consul in Los Angeles, Santiago Campbell, and the plan was to have him own the land in exchange for an interest in the whole operation. We were to put up all the money and do the farming. "We" eventually consisted of Tom, me and Barbara, and Jean and her new husband, John Wilson. I donít remember how the various interests were divided.
I made a trip to Baja with Tom, Alan, and Bob Cannell to scout around for farmland. We were looking for bare, undeveloped land that was available from the Federal Government, sort of like homesteading. I remember looking at some red ground, probably San Telmo Mesa, just south of San Telmo Arroyo. We also looked at what I think was Camalu, farther south. Finally we drove up the San Telmo Valley and found a nice little side valley adjoining a ranch that Grampa Utt and his son, (my uncle) Jimmie Utt had purchased for the purpose of growing seeds, principally, as well as a small walnut orchard. I really liked the looks of the soil there much better than the other places we looked. Tom made other trips, exploring other possibilities, and also taking his friend Steve Riess with him. Steve had located some very successful and well-publicized water wells, and assured Tom that we would find abundant water in the little valley of Santa Teresa, as the valley off San Telmo Valley was called.
So the decision was made to have Santiago file a petition with the government to obtain title to the property. Tom arranged for a surveyor to make a map and papers were sent off to Mexico City. In due time the Campbells had title to the land, and the enterprise known as Rancho Santa Terresa was underway!
Danís Fleet